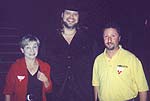 A Froggy 94 Concert photo: Country Star Clay Davidson, with his manager (l) and Steve (r).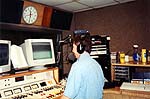 Steve "hard at work" at The Buzz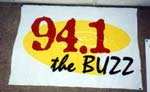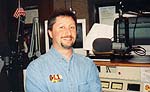 Steve "West", pausing to pose in the Buzz Studio, April 2001.


Steve Sawyer grew up in the small town of Orange, Massachusetts, about 75 miles west of Boston.

I first got into radio in 1980, after mom suggested that since I loved radio so much maybe I should go down to WCAT and apply for a job. At 17, the only job I ever had was a paper route!
Over the years I've done a dozen or so stations, including KOUL Cool 103.5 and KLTG Oldies 96-5 in Corpus Christi. I even was PD of little WCAT for about 6 months in 1989. After 13 years in the Navy and several years as a truck driver, I was happy to be doing what I love best full time. I arrived in Memphis in March, 2000 and was picked up for weekends on country WOGY Froggy 94. The format changed to Modern AC, I stayed on and did nights on the New 94-1 The Buzz (WMBZ) until July 2001.
As of May 2002, I work at the IRN news network during the week, and I'm on KIX 106 and sister station WJZN/Smooth Jazz on weekends.
I'm also into the other aspect of radio, the Amateur bands. My callsign is k1frc. I've been licensed since 1989 and currently hold a general class license.
As one who has worked so hard over the years doing "real" work, I only have one thing to say about my work in radio. I am incredibly lucky to get paid to do what I love. There are so few of us who are privileged to work in live radio in these days of satellite and voice tracking, and considering how few live shifts there are left in broadcasting, those who do it full time are extremely fortunate.