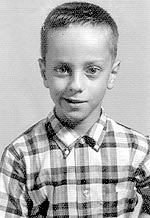 Have you seen this child?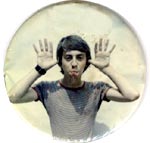 He became this adolescent!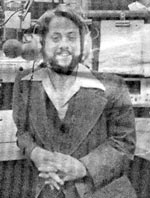 And was identified as this College Student.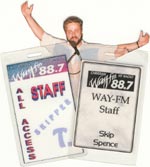 And did it His Way.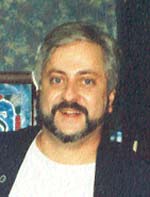 And here's Skip in 2003.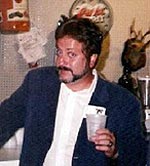 Cheers to Life!


Skipper T. Spence writes:

"If you were a fan of "The Wonder Years", that was 90% me. I was a small kid with a big passion for every aspect of life, with MUSIC and Top-40 Radio right at the top!

If you like "That 70's Show", that was 95% me. Basement hangout with Lava Lamps, Washer-Dryer to the side, Stereo-Turntable-8 Track (first Cassette in my High School) and a tall red-headed Girlfriend!

The only difference: I have a "Cool Dad" that has a Jimmy Stewart meets John Boy Walton quality!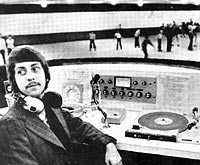 Doesn't Skip look like Freddie Prinze, Sr. at the skating rink?

I have two broadcast degrees, one seminary degree and 37 years plus in media. From spinning tunes at a roller rink, to airing the 'taped shows' (including

Wolfman Jack

and spinning the

AT-40

Disks) on The "River City Rocker -

WGBF-AM

(75-77), to crashing 'GBF's Cash (or is that Crash) Crusier on my graduation night (She hit me!) — doing high school shows on local stations — working in college radio (

WUEV

and

WVJC

) — I did it.

I've been an Engineer's sidekick and the "student" of every PD. I did sales and promotions while working at WCIL-FM in Carbondale, IL. (Billboard Station of the Year under Toni Waitekus.) I finally became a satisfied 'teen jock' at KINT-98 in El Paso (Jim Zippo, PD) and while in seminary at WRTB (in southern Indiana). There were those 'in-between' gigs I did at KGMO, KYMO, and KLID, and WRMX (now WMAK). I think I sent out tapes and wanted critique and direction from every major PD of the day! I finally listened to them and became myself.

My students have made me proud, too! Joe Crain at NBC-20 Springfield, IL (Weatherman) and Scott Innes at WYNK (Country) in Baton Rouge (Scooby Do's third generation voice). During seminary, I did a Sunday Morning Christian CHR show on WRTB and it led me to eight years being the first fulltime 'teen jock' in Christian Radio at WAY-FM in Florida and then WAY-FM in Nashville. From '95 to '98, I was helping to put on Christian Alternative/Modern 'Radio-U' in Columbus, Ohio (Where I served as GM and Engineer during that stay). Since 1998, I taught music, started both men's and women's division II College soccer teams, and I did part-time Oldies (WJPS-FM which is now 93.5 The Wolf in Evansville) and News on local stations (former Clear Channel cluster, now Townsquare in Evansville-Owensboro-Henderson.)

I spent Two-plus years as a Marketing Manager for Media relations at Cinergy Communications (dealing with internet audio and websites for radio-tv-paper), WIKY (South Central, where I learned from original owner John A. Engelbrecht when in High School) was home from 2007 to 2010, and I did Saturday and Sunday gigs and fill ins. During that time, I hosted "Joyful Noise", a CCM-Hot AC show on Sunday AM and continued to program and serve on the coffee house board at Youth, Inc. who has WYIR-LP (underground-theocratic outreach in Evansville). I built that little LPFM along with WWPO-LP in Oakland City (Where I served as Assistant Athletic Director of their NCAA-II programs and did play-by-play for basketball on WBTO and then on WYNG..) Also, I did play by play for high school broadcasts and officiated soccer and basketball in Indiana, Kentucky and Illinois.

I left WIKY, WYIR, WWPO and an engineering gig at WGAB and Way-Translator in the Evansville area to lease with an option to buy WMRB in Columbia/Spring Hill, TN. I spent thirteen months to push it to break even with sports and local talk. I have an FM Translator coming (in time) for that market. Opted out for a gig in Market #62, Southwest Florida, and I'm now afternoons at 89.5 Praise-FM, WSRX-Naples/FortMyers/CapeCoral/MarcoIsland (www.praisefm.com.)

And that's the update as of April 2011!