The Real Don Steele -
Remembered
A Radio Special
Produced by:
Keith Smith
Written by:
Keith Smith and Elizabeth Salazar
Narrated by:
Bobby Ocean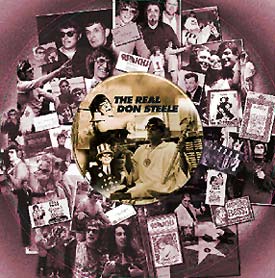 About this Special...
Keith Smith, Production Director at KRTH-FM, Los Angeles, grew up in the San Francisco Bay Area listening to Dr. Don Rose, Big Tom Parker, Rick Shaw and Bobby Ocean . . .
Bobby Ocean and Elizabeth Salazar are well known to Repository visitors and broadcasters.
"I thought that I really respected the career of The Real Don Steele until I embarked on the monumental project of putting together a retrospective for him," says Keith. "I wish that I had really known the scope of this talents and the impact of his career while he was here, but at least I know now."
"While I was making this program, I could hear this great talent blossom until he bloomed into the legend that he rightfully was - and is! I hope that those who listen to this come away with the same appreciation for Don that I did. Tina Delgado IS alive!!"

The First Time, we urge you to listen to this remarkable radio special from beginning to end, first Part 1, then Part 2.

The Real Don Steele Remembered, Part 1 (57:21)
TOP STREAM 32 Kbps (16Khz)

(00:00) RDS talks about RDS
(02:06) Mike Phillips and KRTH/Charlie Van Dyke Announcement
(03:11) L.A. News Reaction (Pat Duffy, Dick Clark, Charlie Tuna)
(07:07) KRTH Tribute Weekend (includes K-100 Fractious Friday)
(14:11) Robert W. Morgan tells Steele Sinatra Story
(15:52) 1936 - Real Don Steele is born, early influences
(17:26) 1960 - Simulated Aircheck (Don Martin School of Broadcasting)
(21:33) 1960 - KBUC, Corona
(24:05) 1961 - KIMA, Yakima
(27:11) 1962 - KOIL Omaha, and why "The Real" Don Steele (Steve Brown)
(33:27) 1963 - KXLY, Spokane (Morning Show)
(40:09) 1964 - KISN, Portland (Emperor of North America)
(53:29) 1965 - KEWB, San Francisco

---
The Real Don Steele Remembered, Part 2 (58:54)
TOP STREAM 32 Kbps (16Khz)

(00:08) The Beginnings of Boss, Program Director Ron Jacobs
(01:32) Reflections of the Consultant, Bill Drake
(02:56) Real Don Steele KHJ Composite, 1965-68
(13:48) Real Don Steele on KHJ-TV
(17:10) Wolfman Jack plays The Real Record
(21:09) K100, Los Angeles (1973-1974)
(23:02) KTNQ, Los Angeles (includes show with KISS, the band)
(29:16) Movies - Death Race 2000, Eating Raoul
(31:45) KRLA (1985)
(35:46) Live From the 60's
(37:05) KCBS-FM (1990)
(39:22) KRTH-FM (1992)
(45:52) Hollywood Walk of Fame Star (May 3, 1995)
(49:38) Recollections by friends of The Real Don Steele
(54:21) A closing comment by Robert W. Morgan
(58:23) Closing Credits

---