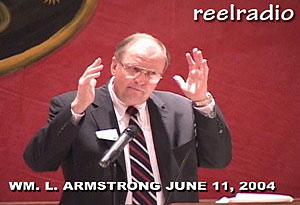 The Honorable

William L. Armstrong

,
U.S. Senator, Retired.
America's First Teenage Top 40 DJ!

op 40
was 50!
June 11, 2004
The Repository thanks Richard W. Fatherley
for sharing!
[Description by Uncle Ricky]
On June 11, 2004, Richard W. Fatherley hosted Encore '54, a Kansas City event which honored the start of the Top 40 era, and the 1954 purchase of WHB, Kansas City, by Todd Storz (1924-1964). Fatherley passed away on March 8, 2010.
This video exhibit presents a short portion of Encore 54's Guest Speaker, William L. Armstrong, America's first teenage Top 40 DJ and PD at WTIX, New Orleans (1954-1956) and WDGY, (1956-1958). Armstrong was elected to the U.S. House of Representatives in 1974, 1976 and 1978. He was elected to the U.S. Senate in 1979 and 1985. In this clip, Armstrong explains the origin of the Top 40 format.
On June 10, 2006, Richard Fatherley was chosen as an inaugural member of the St. Louis Media Hall Of Fame. REELRADIO is pleased to feature his documentary, Radio's Revolution And The World's Happiest Broadcasters, here.