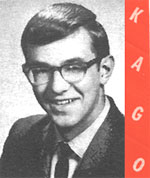 Stephen Weber at KAGO, Klamath Falls, Oregon, 1965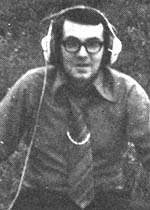 Web Camel (Stephen Weber), KATA, Arcata, Ca., 1973

Stephen Weber remembers hearing "strange sounds" out of his crystal set, back in the Nifty Fifties. He headed for the basement of his grandmother's house, opened up the coal-burning furnace-unit for a transmitter and piped his "show" via "multiplex sound" using a RCA-Victor wind-up Victrola.
As a child, KISN in Portland, Oregon captivated young Weber, who graduated to a 50-watt neighborhood pirate station on 840 AM, then to KWAY (1570) near Portland. He moved to the central part of the state before volunteering for Armed Forces Radio & TV, AFRS in Adak, Alaska.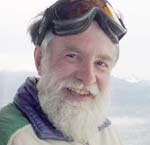 Steve at Willamette Pass, 2002

Following the service, Stephen worked at numerous stations in Oregon and far-Northern California, including KATA (as Web Camel), KUJ (Walla Walla Washington, as Jockey John) and KISN in Portland (as Chuck Weber).

Stephen is presently a field-service engineer, and in his spare time, he turns the tables on chair-lifts at the Willamette Pass Ski Resort in Oregon. He dreams of someday being one of those soft-spoken outer-space satellite jocks, playing music from the 40's, 50's and 60's.