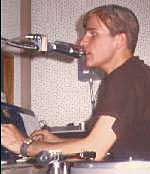 Tom Corbett Boss-Jockin' at WAGO, Ball State University, 1967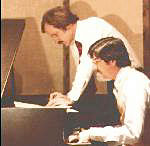 Corbett and Kirby, 1975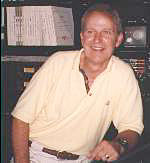 In Vibra-Sonic Recordings' Nerve Center, 1999

Tom Corbett writes:
"My family headed the Edsel hardtop out west in '63, and along the way I noticed the station ID jingles on KXOK, WHB and KIMN were the same as my hometown station in Indianapolis, Lucky 13, WIFE. That's all it took.
I started collecting ID jingles at Ball State University while working at campus station WAGO BossRadio 57. After graduation, I had the opportunity to produce TM's Phase II in Dallas for Top 40 WHUT, Anderson, Indiana, where I was PD and morning jock. Returned wide-eyed from Dallas thinking on-air work wasn't for me anymore and started a jingle company in Indianapolis, Corbett-Kirby Corporation, with college buddy Mike Kirby in 1972. We produced thousands of commercial jingles for clients nationwide including a 65-episode radio series, The Adventures of Captain Clifford Swish and Wongo, the Norwegian Scab Camel, written by David Letterman.
I was recruited by TM Productions in 1977 to direct a television ID division. Left TM (and the industry) in 1984 to become national sales manager for Alcoa's fiber optic division. Today, I own a custom commercial cabinet business in Nashville, CORBETTWORKS. I still avidly collect ID jingles and have a lot of fun in my spare time with the downstairs project studio, Vibra-Sonic Recordings, where 'The Wollensaks make the difference.'"
The Repository thanks Tom Corbett for sharing!