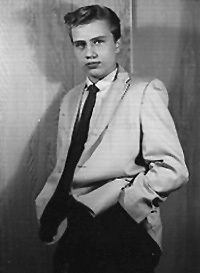 T. Michael Jordan at 16, before he became a famous DJ.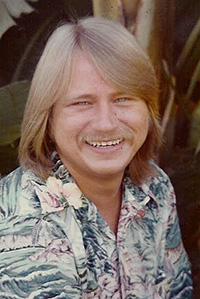 T. Michael Jordan, 1977, after becoming a famous DJ.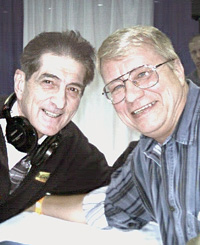 Dick Biondi & T. Michael, 2008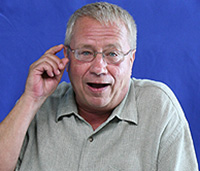 T. Michael Jordan, 2015
[Bio by Uncle Ricky with T. Michael Jordan]

T. Michael Jordan, (Tom Nefeldt) was born and grew up in Chicago, but it was so long ago that no one remembers the year, only that it was the 4th of June. His first radio job was in 1963, at KBRR in Leadville, Colorado, where he lasted only a couple of weeks. Determined to continue in his chosen profession, he returned to Illinois and WTAY in Robinson. In 1965, he took the evening shift at KLWW in Cedar Rapids, Iowa, then KYSN in Colorado Springs.
"T" always liked the sun, so in 1966, he was off to Genie Radio, WGNE in Panama City, Florida, and when the PD and GM moved to Tucson, Arizon, he followed them to 50KW KFIF before his first trip to California, and the legendary KMEN in San Bernardino, circa 1968. In 1971 he re-located to KIRL in surburban St. Louis, Missouri, where he stayed for nearly a year.
The Twin Cities came calling, and despite the coooler temperatures, he moved to Minneapolis and KDWB in the early '70's. Somehow, he found his way to KROY/Sacramento, California. He worked with Johnny Hyde at KROY and KCRA in the Capital City. Then, down the valley to KAFY/Bakersfield as Program Director, back across the country to WLOF in Orlando, Florida, and back to California and KLIV/San Jose where he first worked with programmer Rick Carroll. He followed Rick back to Sacramento and KNDE, and finally, in the mid-70's, he made the big move to KKDJ(FM) in Los Angeles.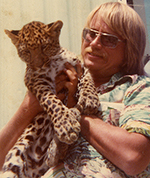 Picture of T. Michael Jordan with Baby Leopard
Though KKDJ had the #1 cume, Tom was ready for a change and decided to open a pet shop in Los Angeles. He had always loved animals (cats are his favorites) but he learned quickly that wasn't enough to guarantee success in the pet shop business. His shop went bankrupt and he went back to radio at KEZY in Anaheim, California, until he was asked to return to Sacramento and KROY in November, 1978. It was there he met Uncle Ricky, who eventually asked him to host mornings on KROI(FM). He held that position until 1980, when he was offered the position of Production Manager. At that point, Tom decided he should return home to Chicago. He did work a few months at WYEN(FM) in Chicago, but what followed was a second successful and remarkable 30 year career that had nothing to do with radio!
Tom became interested in using a home computer to track the Stock Market. He taught himself computer programming and his software earned him royalties. His "in the field" training and support work caught the attention of Tandy Corporation in Fort Worth Texas. He was asked to join Tandy to manage training and support for their rapidly growing personal computer business. In 1985, a family connection resulted in a offer to move back to Los Angeles and manage computer operations for The Writer's Guild of America, which he did for ten years. He worked for the L.A. County Bar Association for five years, the California Department of Justice for six months, and returned to Illinois in 2001 to wrap up his amazing second career at Architex, a major supplier of contract textiles.
"T" retired in 2015 and says he still listens to music radio. He might work in radio again, but would not want to play oldies. He says the songs are all burnt out.
The Repository thanks T. Michael Jordan for sharing!
[Descriptions by T. Michael Jordan and Uncle Ricky]