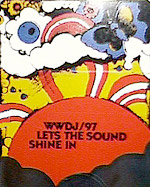 An early WWDJ Logo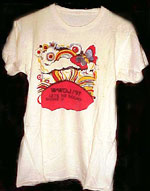 A WWDJ T-shirt.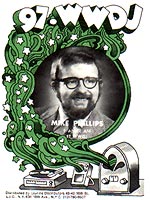 A WWDJ Survey Sheet featuring Mike Phillips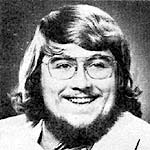 The world-famous Bwana Johnny, as seen on WWDJ.

[By John Porcaro] The Rock & Roll history of WWDJ, Hacksensack, New Jersey, began on Wednesday, May 12th, 1971 when WJRZ, a country station, became WWDJ - Top 40, a format which would be its cornerstone for nearly three years.
When WWDJ started, it looked like it would fill the AM gap left by the demise of WMCA and in many ways it was (especially to those who only had AM in their cars). Although 97DJ was no 'MCA, they still played more of a variety music format than 77 WABC. One example was Chuck Berry's My Ding-a-Ling, a song that hit number one on the WWDJ survey, but was not played on WABC. Unfortunately, as in the case of WMCA, it was another AM station with signal problems.
The first generation of WWDJ was similar to WOR-FM. It had a similar music mix with a little more energy and personality. At first, WWDJ, unlike WABC, seldom referred to its survey. It played plenty of oldies and had a full-time request line.
There were many excellent DJs who passed through the 97 DJ doors. They included Bwana Johnny, Al Brady,(who went on to become Program Director at WABC), Mike Phillips (KFRC and KRTH), Ronnie Grant, Howard Clark (who demolished a new Jaguar XKE that was to be a prize on "The Big 610" out in California, on the very first morning of the promotion), George Taylor Morris (who is the voice behind "Reelin In The Years" and the DJ who popularized the association between Dark Side Of The Moon & the Wizard Of Oz), Sean Casey (who was the last Program Director WWDJ had), Joe Conway, Steve Clark (who was for a short time a WMCA Good Guy in 1967, plus on WOR-FM & WCBS-FM), Mark Driscoll (also of WOR-FM and WNBC), Bob Lockwood, Don Cannon (he can be heard on the radio in the original Rocky movie), Bob Savage, Bobby Finck (aka Robert K. Oliver, or Rokko from 99X) and many more. Sean Casey worked at WOR FM and WPLJ before 'DJ, and then went on to work for a while at CBS FM. Steve O'Brien of ABC and WYNY fame worked afternoons for a period of time as did Jim King (99X).
As 1973 ended and 1974 began, the station dropped its all night show and signed off the air for the overnight period. There was less energy in the presentation and the playlist seemed almost thrown together. After three years of trying to battle WABC and the growing audience of WXLO and other FMs, WWDJ Top 40 rode off into radio history.
WWDJ became a religious station on April 1, 1974.
The Repository thanks Mike McCann, John Porcaro, Russ DiBello, Brian Nazario and Evan Dakes for their help in creating this exhibit.
---