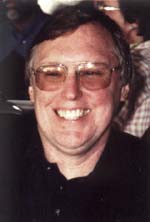 David Critchfield on his 50th birthday, 2001.

When this Collection went online (March 3, 2002), we didn't know that David Critchfield had passed away in December 2001. He contributed this material to REELRADIO in June, 2001, and wrote about his aircheck collecting hobby at that time.
"It was a major life changing event being turned on to rock 'n' roll radio at summer camp on Orcas Island of the San Juan Islands, Washington, in August 1962 and especially being influenced by CFUN/Vancouver but also by the other top 40 legend in this area at the time, KJR/Seattle. From then on I probably listened to radio at least 8 hours a day. Later added to my listening were CKLG and KOL. Now four of my lottery numbers are 7-9-13-14 (for CKLG, KJR, KOL and CFUN). So far I haven't come through with them.
Majored in Communications Radio/TV at the University of Washington, Seattle. Work in radio only got as far as KCMU (at the time), the 10 watt giant serving the U-district and maybe part of Ballard (Seattle neighborhood) if the wind blew right. Went to work for the phone company instead due to interest in better job security. That applied when it was the Bell System. Now telecom is every bit as competitive as radio.
Avid aircheck collector, moving to higher fidelity and unscoped circa 1985. Taped a lot in the 60s but didn't let the tape run and regret only having lo-fi taping equipment then as the 60s certainly remains my favorite era. One personal favorite: Dale Dorman, especially when he was still at KFRC/San Francisco.
Very interested in tapesponding with aircheck collectors around the world, especially from the UK, Australia and New Zealand in addition to the U.S. and Canada. Also very much in to collecting studio quality jingles
For radio related, one big highlight for me is the day in September 1976 that Dr. Don Rose graciously gave me a full tour of KFRC when it was still at 415 Bush Street. Much like a pilgrim visiting Mecca!"
The Repository thanks David Critchfield for sharing!