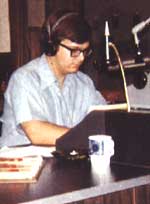 Don Riley on the air at his hometown station, WCVL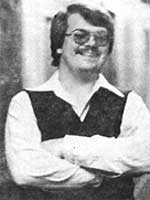 Don as Jerry Riley, WAAM Ann Arbor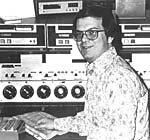 Don Riley at WDRQ, Detroit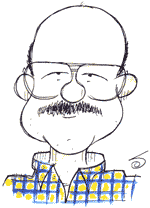 Caricature of Don Riley (today)

Don Riley writes:
"My parents told me I was reading record labels by the age of three. However, I recall thinking the song length on the record meant the time of day the song was recorded ("Boy, those places are really busy between 2 and 3!"). I also remember riding in the car at night and hiding from the big red-blinking towers of a local radio station. I was sure they were gonna get me! Eventually they did.
I started my basement radio station at the age of 12. I was listening quite a bit to WLS in Chicago then; Dex Card in the afternoon, Ron Riley and Art Roberts at night. Later, I discovered WCFL with Jimmy P. Stagg, Barney Pip and Ron Britain. I neglected my basement radio station (and almost everything else) at 14 when I started working Sunday morning on my hometown radio station, WCVL in Crawfordsville, Indiana.
My Top 40 career began in the 1970's with WAAM Ann Arbor, WDRQ Detroit and WKMI Kalamazoo, Michigan. While at WAAM, I was nominated by Billboard magazine as one of the five best Top 40 air personalities in the USA and Canada for market size of less than a million. I still enjoyed my habit of listening to Chicago radio, especially John Records Landecker on WLS and Larry Lujack and Big Ron O'Brien on WCFL. WIBC Indianapolis was also a major influence, especially Chuck Riley who worked afternoons from the late 1960's until 1977 (Chuck was also at KOMA in Oklahoma City). I eventually worked at WIBC, 1982-1983. When we played oldies on the weekends, it was a thrill for me to play the same promotional singles of songs that I had heard originally on WIBC.
I was the operations manager of WKOA and WASK-AM-FM, in Lafayette, Indiana for 17 years, not far from those big red-blinking towers that were after me years ago. Twenty-five years later, my radio career happily brought me back to WIBC in Indianapolis as a reporter/newscaster. In 2013, I'm now working in public radio as the local host for All Things Considered at 90.1 WFYI Indianapolis, (and using my real name: Don Hibschweiler)."
The Repository thanks Don for sharing!