TOP STREAM 64Kbps (11KHz STEREO)

George Carlin, Wonderful WINO, Son of WINO (12:03)
. . . Number One and moving higher all the time . . .
[Description by Uncle Ricky]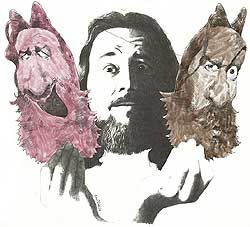 George Carlin, Take-Offs and Put-Ons George Carlin (May 12, 1937 - June 22, 2008) began his career as a 19-year-old disc jockey when Top 40 radio was emerging as a new cultural phenomenon. A decade later, the up-and-coming comedian had perfected the ultimate Top 40 parody — Wonderful WINO, first released in 1967 by RCA on the LP Take-Offs and Put-Ons, and also as a single. Recorded live at Detroit's Roostertail club in 1966, the album introduced us to Top 40 DJ Wild Wooly West, Al Sleet (The Hippy-Dippy Weatherman) and sportscaster Biff Burns.
Carlin and comedian Jack Burns worked as a team at KXOL in Fort Worth, and in 1960 as The Wright Brothers at KDAY in Los Angeles. Carlin requested that his star on The Hollywood Walk Of Fame be placed in front of the KDAY studios. While he was noted for his edgy, sometimes taboo and politically-insightful humor, there's no doubt he had studied radio, particularly Top 40 radio. With 1972's Son of WINO from his LP FM & AM, Carlin had added additional reverberation effects, a literally breathtaking news introduction and a time-tone (bing-bong!) to his Top 40 routine.
This composite of both WINO recordings demonstrates George Carlin's exceptional talent and secures his place as the Top 40 generation's favorite stand-up comedian.