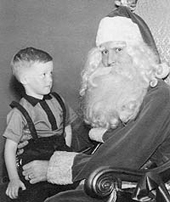 It was in the early 50s when Mike Miles (left) asked Santa (right) for his first set of walkie talkies. Mike writes, "That was back when communication between people was of the wired variety with bulky black phones. I remember that Christmas, listening to "other" people on the same frequency. Little did I know that I was infected with radio fever from that point on."

Mike Miles writes:
"By middle school I'd built my first AM transmitter using a pair of tubes. It was exciting just to think that someone might be listening to me and the songs I would play from my 3 1/2" reel to reel tape player. I'd beg my sisters to change the tapes as I rode by bike around the block testing the reception. The excitement of hearing my "radio station" was incredible—knowing that the radio waves were traveling magically through the streets of Salt Lake City.
One day I found an inexpensive wireless FM mic that I figured I'd mess around with and try to improve the transmission range. It occurred to me that I could simply put the entire mic up on a tall pole, running power and audio up to it, and I'd be in business. Now we were talking, my range jumped to blocks. Of course, I never realized the whole thing was illegal.
The time finally came when I left home and ventured out. Junior college in California provided me an opportunity to work at KFJC. Licensed to Foothill Junior College in the bay area, KFJC was the "Dead Head" station. Working midnight to six, I remember the program director telling me to play lots of Grateful Dead music. Spinning the longest cuts I could find, I fell fast asleep. Waking to the skipping of the needle on the last groove, a caller told me that the music playing was cool. Yeah sure!

Time and lack of money brought me back to Utah and school. KUER, the NPR station for the Salt Lake area provided me with an internship while I studied communication at the University of Utah. I worked as an announcer for classical and jazz music and music director. After graduation, I got a job in television production, audio, and finally management for KUED PBS television in Salt Lake City. While traveling for KUED as a location audio engineer, I'd record FM stations wherever we'd travel in the United States.
I never did own my own radio station. Different paths took me in different directions. Still, radio is where my heart is. Just to hear an AM station fading in and out as the ionosphere filters its audio frequencies makes me shiver. I wonder late at night if the DJs feel the same excitement as their voices travel past the cities, sometimes thousands of miles across the land to my radio."
The Repository thanks Mike Miles for sharing!