Neil Ross was born in London, England and raised in Montreal, Canada. Neil writes:
"My parents resisted the idea of having a television set in our home so I spent a lot of time listening to radio. Canadian radio was pretty stiff and formal in those days but I did get to hear a lot of great drama and comedy, some home grown, some from England, and some from the U.S. I heard a few disc jockeys, but most of the mid fifties pop music they played left me cold. When I left Montreal there was one hour of top forty music on one station. The show was hosted by a man and woman who appeared to have utter contempt for both the music and their audience. I suffered through their patronizing patter so I could hear Little Richard, Elvis, Gene Vincent and Jerry Lee Lewis. Except for Hank Williams' Jambalaya, rock was the first music that ever moved me."
"In the late fifties my family pulled up stakes and we moved from Montreal to the Los Angeles area settling in Long Beach, California. Talk about culture shock! From the snowy north to the land of palm trees and eternal sunshine. In Canada my Junior High had a dress code. Coats and ties were mandatory. My first day of school in Long Beach I was confronted with a sea of junior James Deans. White tee shirts, black leather jackets, Levis and construction boots seemed to be the order of the day. It was like walking on to the set of 'Grease'.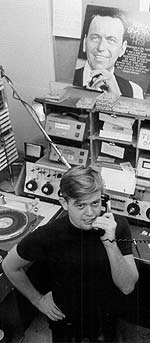 Neil Ross at KKUA Honolulu, 1968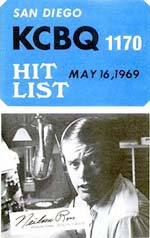 Neil Ross at KCBQ San Diego, 1969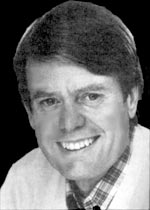 Neil Ross, 1980-something?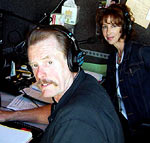 Neil Ross with Randy Thomas, announcing the 2003 Oscar Awards

I went home and put the coat and tie in the closet where they remain to this day. I began tuning around the radio dial and in short order I discovered KFWB. Here was top forty music 24/7 played by the 'Seven Swingin' Gentlemen' a group of DJs who seemed to be genuinely enjoying what they were doing and didn't make you feel like a cretin for tuning in. Reading up on the history of KFWB, I now know that the station had only been on the air with Chuck Blore's Color Radio format for a matter of months. Listening as a kid, I assumed they'd been there forever."

"One year later we moved again - south to San Diego. When my father told me about the coming move he asked if I had any questions. I had only one. "Will I still be able to hear KFWB?" He gave me that pitying look I had come to know so well, sighed and said, "Yeah, I guess so." It turned out that he was right. I had to suffer through a bit of static, but I could still hear color channel 98. In fact one winter's night I heard my idol, Bill Ballance, utter my name as the winner of a KFWB contest! Truthfully I don't think my entry was that clever. I just think the folks at the five thousand watter wanted the world to know that somebody was listening all the way down in San Diego."

"It was around that time that as I was listening to Ballance toward the end of one of his Saturday night shows. He said that as soon as he got off the air he was going to jump into his brand new convertible, pick up his gorgeous starlet girlfriend and that together they were going to 'cruise the strip'. I wasn't altogether sure what 'the strip' was or how one went about 'cruising' it, but I knew that Bill Balance was having the life that I wanted to live. That night the dream of becoming a disc jockey was born."

"Gradually I began to discover San Diego's top forty stations and I began two timing KFWB. I listened to KCBQ and 'The Mighty 690', XEAK from Rosarito Beach, Mexico. Then I discovered KDEO. Actually licensed to San Diego suburb El Cajon, 'Radio Kaydeo' was the 1,000 watt David, battling the 50,000 watt Goliaths. Eventually 690 went all news and it became a two-station battle. Around this time KDEO was taken over by Tullis and Hearn and for about a year they had one of the most amazing radio lineups I ever heard. That lineup probably was the greatest influence I had as a budding disc jockey. I left San Diego in 1962 and never got to hear KDEO again, until 1969. By then it had abandoned top forty for MOR. When I worked there in 1975 it was AOR. For some reason management gave up the wonderful KDEO call letters in the late seventies (what Arbitron diary keeper could possibly forget Raydeo Kaydeo?). Ron Jacobs cleverly snapped them up and took them to Hawaii where they remain to this day. The station that was KDEO is still on the air, now with five thousand watts and religious programming."

"Eventually, I got my chance to get in the business starting out at KMUR, Salt Lake City, Utah. I also worked at KORL, KGMB, and KKUA in Honolulu. Came back to San Diego to Work at KCBQ and KDEO. I also teamed up with Gary Allyn to program two super powered Mexican FMs broadcasting into southern California in English as XHIS and XHERS. After San Diego there was a year at KYA, San Francisco, then down to Los Angeles to work from KPOL/KZLA, KHTZ, KNX-FM and finally, a delightful ending to the twenty two year long radio phase of my career, three years at Gene Autry's KMPC. I never dated a starlet and although I've driven up and down it a few times, I don't think I've ever really 'cruised' the strip, but I did have some amazing experiences and got to meet some truly unforgettable people along the way which more than makes up for it. But as much as I loved it, I eventually had to face the fact that the radio business was deteriorating (compared to today it was still paradise) so I left the air in 1985 and have been a free lance voice-over performer ever since. Anyone interested in that phase of my career can find out more at www.neilross.com."