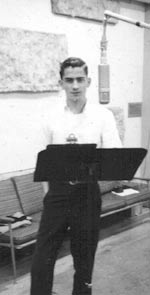 Young Bob Oakes.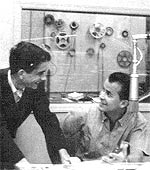 Bob Oakes & Dick Clark.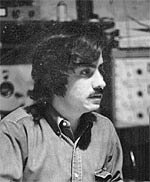 Bob Oakes at WBZ production remix session.


Bob Oakes today,
in a casual moment.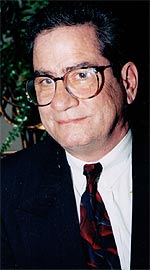 Bob Oakes today,
ready for business.

It was the late 50's in Suburban Philadelphia. The days of American Bandstand and WIBG — "Wibbage 99". A teenage Bob Oakes works part time at two local radio stations, WNAR and WEEZ and listens to Philly radio. He knew there must be something better. One night after getting off the air, he tuned 1520 and there it was ... the Powerhouse, WKBW, Buffalo. It was tight, exciting, with great personalities and killer promotions. He drove all night to Buffalo to find out how they made their magic. This is one of those Schwab's Drug Store stories ... Bob was greeted at KB's door by Johnny Barrett, Assistant GM, he got the tour and weeks later WKBW called Bob and offered a gig. KB, with its 50,000 watt signal not only owned Buffalo it was America's highest rated radio station. Oakes was in radio heaven until the station was SOLD!!! Everyone was making plans to leave.
In the early 60's few radio stations had WKBW's creative capability. Recognizing a need, Bob Whitney, Stan Kaplan and Dan Ingram formed Mars Broadcasting to produce fun contests and killer formats. Like wildfire, Mars became the hottest radio syndicator. Mars "Funtests" were on the air everywhere from WABC, New York to KFWB, Hollywood, WLS Chicago, WQAM, Miami, WHK Cleveland and many more. Bob Oakes replaced Dan Ingram who was leaving Mars for a near three decade career at WABC. Bob was Mars Production Director and Program Producer of the two hour daily Dick Clark Radio Show. After a three year stint at Mars it was SOLD!! (sound familiar)?
Bob's next radio adventure was as Program Director at WWTC in Minneapolis/St. Paul. For those not familiar with the Twin Cities radio market, back in the 60's, one station, WCCO, pulled half the audience. Two top 40 stations combined for 25% of the listeners. That left 25% for sixteen other stations to share. Oakes had to create something truly different to grab and hold listeners. How aboutan adult music station that played nothing but familiar music formatted in a tight "Live From Studio City" feel. It sounded big and exciting, and it worked!!! Within three months WWTC owned #2. The station created a lot of excitement in the market and in some out of town broadcasting circles.
Oakes was recruited by Group W, Westinghouse Broadcasting, for their soon to be LA radio station ... KFWB. Six months later, in December '66, Westinghouse took over a sad degeneration of a once legendary radio station. Oakes surely had a challenge. Bob's proven forte is creating dynamic formats with strong production values. KFWB became one of the nation's first Adult Contemporary stations with a stellar line-up of personalities. In a year the station rose from 19th to Number Two in L.A. (Adults 25-49). In spite of the incredible ratings performance, Group W Corporate in New York decided to switch KFWB to the All News format in March of '68. Bob was transferred to Boston and the ailing WBZ. Here was a similar situation. A once dominant station had deteriorated and needed a strong injection of confidence, discipline and a show biz tune-up. Once 'BZ's on-air pride had been restored, the listeners returned to restore WBZ to it's Number One position (Adults 25-54). Bob stayed at WBZ for nine years. This period was marked by Bob's exceptional flair for promotion and production including his custom created jingle package, WBZ's Original Grease Weekends, WBZ's Big Broadcast, numerous other unique contests and special programs.
In 1976 Bob joined Susquehanna Broadcasting as their National Program Director. In 1979, ABC enlisted Bob to lead their WXYZ from a failing Rock format to the News/Talk format. In 1980 he returned to the Twin Cities to convert KSTP from Rock to News/Talk. For many years Bob had been encouraged to open his own studio/shop. In 1984 Bob formed Communicast, Inc. First clients included Group W Radio (Corporate), most of the Group W stations and a line-up of top stations that reads like a "Who's Who" of prominent broadcasters.
During Oakes' 40+ years in broadcasting his leadership has helped create some of the most destinctive and productive stations. He was considered the number one production person in the nation. But, you have to hear the results and judge for yourself. His REELRADIO Collection includes promotion, programming, and production examples.
The Repository thanks Bob Oakes for sharing!