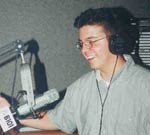 Robb on B101, 1998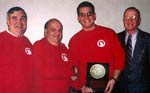 Val Sinese, Julian Zienowicz, Rob and Jim Cummings at Big Brothers of Rhode Island Awards Ceremony, 1999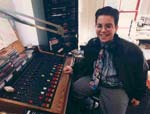 Robb on the radio.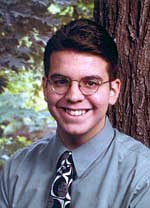 Robb Pirraglia, 2000


Robb Pirraglia, 2008


Radio is like an escape from reality. It is an opportunity to connect with, entertain and bring enjoyment into a person's life. I love every minute of it! I am filled with passion, energy and excitement every time I crack a mic. I love people, I love music and I love to communicate.

I began collecting records at age four, my first, Hip to be Square by Huey Lewis and the News is still my favorite. By 8, I was regularly calling the Saturday night request show in my home town of Providence. I started reading books on pop culture and pop music in order to be able to request a "forgotten 45" and provide an anecdote. This way, I learned, I made for an interesting call and got on the air. Needless to say, I would patiently wait and then tape myself.

In the summer of 1993, I got an internship at B101 (The Oldies Station) and began working side by side with the jocks I admired. It was through this experience that I met my mentor and B101 PD John Morgan. From my first day, he took the time to answer my questions, teach me the art of broadcasting and assign "homework". I was asked to come in on Friday afternoons and continue my internship.

Meanwhile, I was lucky enough to have a FM CHR on my school's campus. With a little coaxing of the High School Senior whose "club" it was, I got on the air at age nine. I began voicing spots at B101 in 1995 at age 13 . Eventually I would serve as Assistant Production Director.

On one particular afternoon, the scheduled jock was running late. I asked John if I could sit in while he filled in. Then he said, "Robb, why don't you do it?" I was pretty good....I got a weekend shift and continued coming in periodically during the week for production.

Shortly thereafter, John left for Oldies 103.3 in Boston. I tried every shift at the B, but I was itching to jock CHR. I got my shot at two of New England's finest, Q105 New London and then FUN 107 New Bedford/Providence.

Early in 2000, I was hired to work at Oldies 103.3 in Boston as host of The Good Time Saturday Night Request Party. I had the pleasure of working not only with John Morgan and Paul Perry from Providence, but industry greats like Jim Sands, Brian Murphy and Little Walter.

In June of 2001, I became the night jock at 92-PRO-FM in Providence, RI. My air name was Robby Bridges. In June 2002, I worked late nights/weekends at WHTZ/Z-100, New York, New York. I went on to swing at WIOQ in Philadelphia, and I made the return to Boston and Mix 98.5 WBMX in 2003. While there I formed my own production company BBOR and began doing commercial and radio station voiceovers. Shortly thereafter, while still weekending in Boston, I signed on in Providence at country/top 40 hybrid WCTK, first at night and then PM drive, where I was part of a staff that took the station from 6th to 1st in the ratings war. During my 5 years there I also worked as a TV host on Rhode Island PBS, appeared in the movie "You Must Be This Tall" and became a columnist for FMQB Magazine. In addition to voicework, I also got to do a guest shot on Chicago's True Oldies WLS-FM. In 2008 I made the move to Connecticut's legendary AC WEBE 108-FM where I hosted PM drive and a Sunday late night talk show. In 2012, I am programming WFAS in Westchester New York and doing weekends at WPLJ/New York. I'm also on the national True Oldies network.

Radio is my passion and I look forward to the future.

The Repository thanks Robb Pirraglia for sharing!