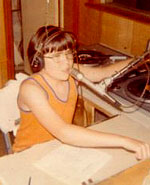 Winn Simmons, age 12,
at WOLS Florence, S.C.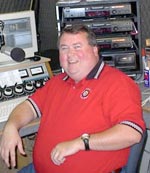 Winn Simmons, 2002

Winn Simmons started in radio at the age of 12. On visits to his grandparents' home in Florence, S.C., he would spend most of his days at WOLS radio, where he would watch Tom Kinard (aka Tom Jones, WAYS) and the jocks for hours. He had free reign in the production room and made lots of tapes.
Winn was FCC-licensed at age 13 and tried to hang around the local stations in Laurinburg, being "that little kid who always got in the way." His first job, at 16, was at WLAB in St. Pauls, N.C. doing weekends and late afternoons. During his high school years he interned at WPTF/WQDR in Raleigh. During college and after, he went on to work at a number of stations in North and South Carolina (WPDZ, WFMO, WTSB, WKZQ, WWKO, and WJOT.)
In 1982, he went into the family business, but worked a little in radio to "keep his feet wet." Following several years of success in the Insurance business, he went back to his first love, doing Saturday Afternoon Beach Party on WGQR, Elizabethtown, N.C.