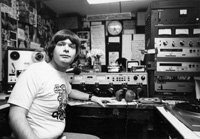 W.T. Koltek at WYEP, 1976
W.T. Koltek was galvanized by radio in his native Pittsburgh at a tender age. Based on old charts, the earliest pop music on radio he remembers hearing was in 1957, when he was 4. In late 1958 or early 1959 he discovered the first station to make an impression on him with its overall sound — WEEP, a Top 40 daytimer with high-energy jocks, a rock-heavy playlist and CRC Series 8. The following summer, he came upon the new "showcase studios" of KQV during a trip downtown and got to see how the sound he loved was created. It was a revelation.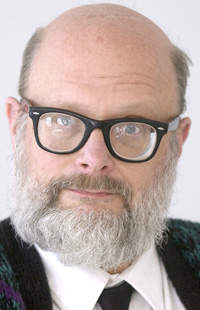 W.T. Koltek, 2017
An opportunity to get behind the mic and turntables came at Pittsburgh's WYEP, a largely volunteer-staffed, independent public station operating in the basement of an inner-city garage. From summer 1976 through fall 1985, he hosted alternative-rock and jazz programs there, and concurrently did a year of part-time jocking at Country-formatted WIXZ.
Technical and financial problems in 1985 forced WYEP to go dark for two years; by the time it returned, W.T. was in Ohio, where he is retired from 30 years on the copy and layout desk of a daily newspaper, coincidentally named The Repository.
The REELRADIO Repository
thanks W.T. Koltek for sharing!