TOP STREAM 32Kbps (10KHz)

Richard Fatherley - The 1958 DJ Convention in Kansas City (19:24)
. . . Booze, broads and bribes . . .
[Description by Uncle Ricky]
This studio recording of Richard W. Fatherley (d. March 8, 2010) features Fatherley's original paper prepared for the third K-State Great Plains Radio History Symposium in 2008.
The first-ever Pop Music Disc Jockey Convention & Radio Programming Seminar was sponsored by Storz' WHB and held in Kansas City at the Muehlebach Hotel on March 7, 8 and 9, 1958. Newly-employed Bill Stewart coordinated the event. Full-page ads in Broadcasting and other radio/TV magazines promoted free registration "open to all Disc-Jockeys, Program Directors, Record Industry Management Personnel and Broadcasting Industry Management Personnel."
Stewart framed the convention as a seminar offering privileged information from high-dollar media experts, radio group executives and major-market air talent. A gala "All Star Show" featured Tony Bennett, The Four Lads, Laverne Baker, Andy Williams, The Crew Cuts, and many others.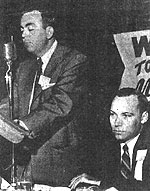 Gordon McLendon,
Todd Storz, 1958
The gathering was attended by many of the biggest names in radio at the time, including the Presidents of the Hooper and Pulse rating services, Gordon McLendon, well-known New York Disc Jockeys Martin Block, Jack Lacy, Al "Jazzbeau" Collins, Peter Tripp and Chicago's Howard Miller. Participating record companies included Columbia, DOT, Mercury, RCA-Victor, Atlantic, Roulette, Capitol, ABC-Paramount and Epic.
Though Storz Executive VP and WHB General Manager George W. Armstrong promised a second Kansas City convention in March 1959, Bill Stewart later placed display ads in trade magazines announcing that the second convention would be held in May, 1959 at the glamorous Miami Beach Americana Hotel, near Storz' WQAM.
The Miami Beach convention was a whopper, but it ended Stewart's career with the Storz organization. It attracted 2,500 attendees and became the springboard for allegations of pay-for-play to disc jockeys, known as Payola. According to Broadcasting magazine, "record company entertaining got out of hand."
Storz sponsored the first-ever DJ convention in Kansas City, and the second in Miami Beach — which was the last.