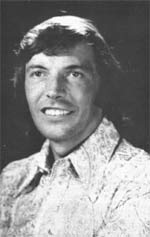 Pat at WMYQ, Miami, 1974.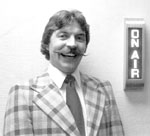 We're not sure when Pat was sporting the handlebar mustache and the plaid jacket, but he wore them well.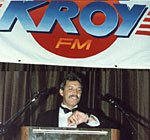 Pat checks the time while hosting a promotion for KROY, Sacramento, 1987.

Pat Riley (Ron Metzger) grew up in Toledo, Ohio, where he did his homework with WOHO playing in the background. Pat writes:
"Then along came WTOD, a daytimer, but around 1960, at sundown, you could switch over to their FM. My family still had their very first television in the basement recreation room. It had AM & FM along with a record player.

My friends would come over and shoot pool, and we would listen to Bob Kelly, Bob Marks and old John Gary. "Mr. Music" Bob Parkinson was in town, and frequently, we would go the station and look in the window and watch him do his show. One Saturday, he let us in the studio. I was hooked.

Soon CKLW boomed into Toledo from Windsor and I knew someday I had to be a jock. In 1969, I made it, with my radio job at KJLH Long Beach, California. Next was KMUZ Santa Barbara, KQIQ Santa Paula, and KACY Ventura. Then, it was on to KISN in Portland, WMYQ in Miami, CHUM in Toronto, KZZY, KXOK, and WIBC in Indianapolis. My finale was mornings for the last stand of KROY (FM) in Sacramento (CA).

I spent 25 years altogether in radio and collected many airchecks along the way. Some I made as I drove around the country with a reel-to-reel recorder I installed in my van. I now work at an advertising agency in Sacramento. I hope you enjoy my airchecks."
The Repository thanks Pat for sharing!